Providers Respond to Net Neutrality 'Day of Action'
Several communications-industry heavyweights are responding to today's much-anticipated Internet-wide Day of Action to support net neutrality. Some are pushing for Congressional intervention -- a legislative solution that would end the FCC's game of regulatory ping pong -- but they face resistance from net neutrality advocates who argue that the issue has already been decided by the courts. Moreover, any new legislation, advocates say, would simply align with new efforts to overturn the 2015 Open Internet Order.
Fight for the Future, freepress and Demand Progress organized the event to precede the Federal Communications Commission's July 17 public comment deadline on its proposed changes to net neutrality rules and Title II. About 80,000 companies, websites and organizations joined the movement, freepress said. These include public-interest groups like Free Press Action Fund, the Center for Media Justice, Demand Progress and Fight for the Future, along with companies like Airbnb, Amazon, Etsy, Facebook, Google, Kickstarter, Mozilla, reddit, Spotify and Twitter. To promote their cause, organizers created shareable banners and alerts, and made it simple for consumers to contact the FCC and Congress before the FCC's July 17 deadline for comments.
While some operators, such as Spectrum and T-Mobile, did not address the topic on their websites or social networks, others chose to do so; most frequently, CSPs lobbied for Congress, not the FCC, to decide on Internet guidelines. Open Internet protections, argued Will Johnson, senior vice president of Federal Regulatory & Legal Affairs at Verizon (which did not participate in today's event), "deserve to be written in ink, not pencil."
Here's a look at what some industry titans said publicly about today's Day of Action, net neutrality and the FCC's move to overturn Title II, along with comments from the three organizing groups.

Page 1 / 7 Next >
Marches, petitions and protests did nothing to dissuade the three Republican members of the Federal Communications Commission who, on Dec. 14, reclassified broadband and overturned the law blocking preferential treatment of content, throttling and blocking.
Regional Florida provider ITS Telecom is deploying Calix EXOS and mesh network to manage residential customers' WiFi and high-speed fiber broadband, an investment it expects to generate new revenue sources, reduced support costs and even greater customer satisfaction.
With $7 million in Series A financing from investors such as Intel Capital, startup GenXComm adds its name to the list of vendors offering alternatives to DOCSIS 3.1 in the full-duplex links for cable arena.
AT&T's investment in SDN, virtualization and cloud pays off as Shell once again extends its contract in order to gain new flexibility and business benefits.
With the latest version of Central Office Re-architected as a Datacenter, the Open Networking Foundation looks to bring operators' vision of one network for enterprise, residential and mobile customers closer to reality.
Tuesday, November 21, 2017
10:00 a.m. EST / 3:00 p.m. London
Growing bandwidth demand, competitive pressures, and ambitious political and regulatory goals promoting the Gigabit Society are forcing service providers to expedite their technology investments and place bets on the right technology choice. With a growing number of trials and start of commercial deployments, Gfast has emerged as the smart, pragmatic and future-proof solution to delivering on Gigabit Society goals.
During this Webinar, Werner Heinrich, Director Portfolio Management Broadband Solutions at ADTRAN, will discuss:
The Ultra Broadband toolkit and Gfast evolution status
The economics driving FTTx adoption
Unleashing the power of symmetric broadband services
Latest in Gfast solution packaging accelerating Gigabit service coverage
Improving network economics and services agility using SD-Access

Listen to this archived radio show for a fascinating look into the world of SD-Access and the complementary technologies creating the digital revolution. Bring your questions and your curiosity to be part of the conversation.
All resources
BT's Formula for F1 Success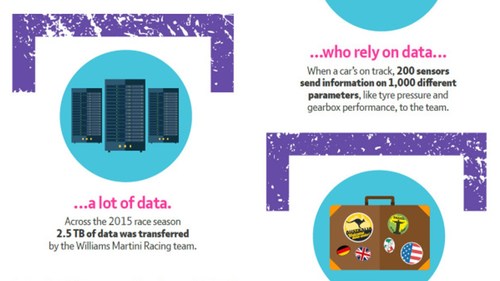 Infographics archive