This informative interview with Robert Conger, AVP, ADTRAN, highlights the reasons global service providers and cable network operators are evaluating SDN for their broadband and Ethernet access networks. Operators are faced with new competition every day, whether that is over-the-top content providers or new overlay providers entering their markets. To be successful in this new environment, operators are looking to Software Defined Access (SD-Access) for the service agility and cost savings that are paramount to unleashing lucrative user-driven services that will aid in customer retention and ultimately drive network profitability. Discussion points will include examining the monolithic, big-box network silos that exist today preventing rapid service creation and how deploying an open, programmable and scalable services framework will create nimble and highly scalable access networks. The discussion will wrap up with a snapshot of the next-generation broadband technologies that are being tagged as the first SD-Access deployments as we kick-off 2017.
Marches, petitions and protests did nothing to dissuade the three Republican members of the Federal Communications Commission who, on Dec. 14, reclassified broadband and overturned the law blocking preferential treatment of content, throttling and blocking.
Regional Florida provider ITS Telecom is deploying Calix EXOS and mesh network to manage residential customers' WiFi and high-speed fiber broadband, an investment it expects to generate new revenue sources, reduced support costs and even greater customer satisfaction.
With $7 million in Series A financing from investors such as Intel Capital, startup GenXComm adds its name to the list of vendors offering alternatives to DOCSIS 3.1 in the full-duplex links for cable arena.
AT&T's investment in SDN, virtualization and cloud pays off as Shell once again extends its contract in order to gain new flexibility and business benefits.
With the latest version of Central Office Re-architected as a Datacenter, the Open Networking Foundation looks to bring operators' vision of one network for enterprise, residential and mobile customers closer to reality.
Tuesday, November 21, 2017
10:00 a.m. EST / 3:00 p.m. London
Growing bandwidth demand, competitive pressures, and ambitious political and regulatory goals promoting the Gigabit Society are forcing service providers to expedite their technology investments and place bets on the right technology choice. With a growing number of trials and start of commercial deployments, Gfast has emerged as the smart, pragmatic and future-proof solution to delivering on Gigabit Society goals.
During this Webinar, Werner Heinrich, Director Portfolio Management Broadband Solutions at ADTRAN, will discuss:
The Ultra Broadband toolkit and Gfast evolution status
The economics driving FTTx adoption
Unleashing the power of symmetric broadband services
Latest in Gfast solution packaging accelerating Gigabit service coverage
Improving network economics and services agility using SD-Access

Listen to this archived radio show for a fascinating look into the world of SD-Access and the complementary technologies creating the digital revolution. Bring your questions and your curiosity to be part of the conversation.
All resources
BT's Formula for F1 Success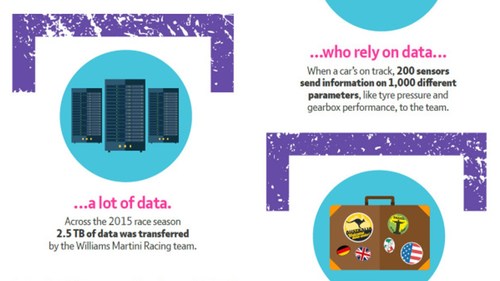 Infographics archive