Addressing the 5G Densification Challenge with Next-Gen PON Technologies
Date:
Thursday, August 17, 2017
Time:
11:00 a.m New York/ 4:00 p.m. London
†

Speakers
Gabriel Brown, Principal Analyst - Wireless Data Services & LTE, Heavy Reading

Ryan McCowan, Director, Portfolio Management, Fiber Access & Aggregation, ADTRAN
5G promises connectivity 10 to 100 times faster than 4G networks, with latencies less than 1msec, making real-time applications such as tactile Internet useable over mobile networks for the first time. However, mobile operators will need to deploy ten times as many radio sites, each with highly reliable plug-and-go multi-gigabit connections, to achieve that level of performance.
In this UBB2020 webinar, Heavy Reading's Gabriel Brown and ADTRAN's Ryan McCowan will:
Discuss 5G densification strategies and their network impact
Outline the different requirements for backhaul and fronthaul needed to support 5G densification strategies
Explore next-generation PON-fixed access technologies and software defined networking principles as emerging solutions to accelerate 5G densification
Outline how NG-PON2, the next-generation multi-gigabit fiber technology, supports the x-haul (fronthaul, backhaul and crosshaul applications) requirements of 5G
†
Gabriel Brown, Principal Analyst - Wireless Data Services & LTE, Heavy Reading

Gabriel covers the mobile network system architecture, including evolution of the RAN, the mobile core, and service-layer platforms and applications. Key technologies in his coverage area include LTE Advanced, small cells, Evolved Packet Core, carrier Wi-Fi and software-centric networking technologies such as NFV, SDN and service chaining. Gabriel has covered mobile networking since 1998 through published research, live events, operator surveys and custom consulting.
close this window
Ryan McCowan, Director, Portfolio Management, Fiber Access & Aggregation, ADTRAN


Ryan McCowan is a seasoned telecom professional with over 15 years in the industry. He currently serves as product manager for ADTRANís FTTH portfolio inclusive of all 10G PON technologies and associated open SDN deployment models. Prior to joining ADTRAN, Ryan served in engineering and technology management roles with Paradyne and AMD. He holds a Bachelorís degree in Electrical Engineering from Tennessee Tech University and a Masterís degree in electrical engineering from Georgia Tech.
close this window


Webinar Archive Registration
To register for this webinar, please complete the form below. Take care to provide all required information (indicated in
red
). Press
Register
to complete your registration. If you have already registered for our site or for one of our webinars, you may
login
to register without re-entering your information.
Marches, petitions and protests did nothing to dissuade the three Republican members of the Federal Communications Commission who, on Dec. 14, reclassified broadband and overturned the law blocking preferential treatment of content, throttling and blocking.
Regional Florida provider ITS Telecom is deploying Calix EXOS and mesh network to manage residential customers' WiFi and high-speed fiber broadband, an investment it expects to generate new revenue sources, reduced support costs and even greater customer satisfaction.
With $7 million in Series A financing from investors such as Intel Capital, startup GenXComm adds its name to the list of vendors offering alternatives to DOCSIS 3.1 in the full-duplex links for cable arena.
AT&T's investment in SDN, virtualization and cloud pays off as Shell once again extends its contract in order to gain new flexibility and business benefits.
With the latest version of Central Office Re-architected as a Datacenter, the Open Networking Foundation looks to bring operators' vision of one network for enterprise, residential and mobile customers closer to reality.
Tuesday, November 21, 2017
10:00 a.m. EST / 3:00 p.m. London
Growing bandwidth demand, competitive pressures, and ambitious political and regulatory goals promoting the Gigabit Society are forcing service providers to expedite their technology investments and place bets on the right technology choice. With a growing number of trials and start of commercial deployments, Gfast has emerged as the smart, pragmatic and future-proof solution to delivering on Gigabit Society goals.
During this Webinar, Werner Heinrich, Director Portfolio Management Broadband Solutions at ADTRAN, will discuss:
The Ultra Broadband toolkit and Gfast evolution status
The economics driving FTTx adoption
Unleashing the power of symmetric broadband services
Latest in Gfast solution packaging accelerating Gigabit service coverage
Improving network economics and services agility using SD-Access

Listen to this archived radio show for a fascinating look into the world of SD-Access and the complementary technologies creating the digital revolution. Bring your questions and your curiosity to be part of the conversation.
All resources
BT's Formula for F1 Success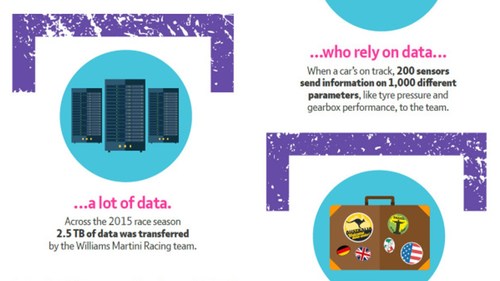 Infographics archive