Webinar Archives

Webinars are free sponsored educational seminars that are accessed over the Internet. You can register for upcoming Webinars or view archived presentations via the links below.
Addressing the 5G Densification Challenge with Next-Gen PON Technologies




Date:

8/17/2017
Sponsors: ADTRAN
View archived webinar

5G promises connectivity 10 to 100 times faster than 4G networks, with latencies less than 1msec, making real-time applications such as tactile Internet useable over mobile networks for the first time. However, mobile operators will need to deploy ten times as many radio sites, each with highly reliable plug-and-go multi-gigabit connections, to achieve that level of performance.

In this UBB2020 webinar, Heavy Reading's Gabriel Brown and ADTRAN's Ryan McCowan will:
Discuss 5G densification strategies and their network impact
Outline the different requirements for backhaul and fronthaul needed to support 5G densification strategies
Explore next-generation PON-fixed access technologies and software defined networking principles as emerging solutions to accelerate 5G densification
Outline how NG-PON2, the next-generation multi-gigabit fiber technology, supports the x-haul (fronthaul, backhaul and crosshaul applications) requirements of 5G
Mobilizing Software Defined Access With 10G PON




Date:

4/13/2017
Sponsors: ADTRAN
View archived webinar

Global communications service providers continue to evolve their networks to deliver the user-driven service models and higher bandwidths demanded by consumers. At the same time, 5G densification initiatives are top of mind around the globe, with hundreds of thousands of 5G small cells needing an open, programmable and highly scalable access technology to fuel the growing demand for connectivity. As a result, 5G densification projects will demand fixed-access networks, supporting fronthaul, backhaul and crosshaul applications that provide:
Service agility by applying modern data center principles aligned with DevOps service creation and deployment
Hardware and facilities redundancy offering unprecedented business continuity
Low latency supporting the rigid specifications of the 5G standard
Network elasticity to support service growth to not just multi-gigabit, but multi-10Gbit/s levels
Cost sensitivity supporting mass market services further enabled by Fixed Access Network Sharing (FANS)
With the current maturation of 10G broadband technologies, and the heightened demand for high-speed fixed and mobile connectivity, 2017 is promising to be the year mass-market, multi-gigabit 10Gbit/s fiber services become commercially viable.
G.fast: Delivering on the Gigabit Promise




Date:

3/15/2017
Sponsors: Huawei, ADTRAN, Viavi
View archived webinar

The European Commission announced its updated Digital Single Market (DSM) policy with the strategic goal of a Gigabit Society by 2025. Key principles include higher speeds (100 Mbit/s to all), an upgrade path to gigabit and the reuse of existing infrastructure to minimize costs. This is pushing service providers to evaluate their technology investments and place bets on the right technology.

The growing number of operators trialing or rolling out G.fast technology is evidence of its positive business case. In addition, with the standardization of a series of innovations and enhanced capabilities, G.fast has evolved from a near gigabit to a multi-gigabit technology further bolstering its business case.

During this webinar, Stephanie Burris, Product Line Manager for the Access Product Line, Viavi; Ronan Kelly, CTO, EMEA & APAC Region, ADTRAN; and Jack Zhu, Director, Huawei Access Network, outline how G.fast -- with new developments such as 212MHz, DTA and SD-Access -- allows service providers to not only deliver on the gigabit promise but also drive towards an "Uber-like" user-driven, on-demand service experience and a competitive edge.

They will also discuss challenges around G.fast rollouts, including the service and economic impact from copper impairments, and review three typical scenarios of G.fast deployment: FTTC with large capacity G.fast DSLAM; DPU installed in the manhole with remote power feed; and small DPU mounted on a pole or wall with reverse power feed.

Webinar speakers will also share the practical challenges in deploying those solutions in the field and cover topics such as long reach vs. high performance (212MHz, non-linear), G.fast vs. SuperVector (35b), and next-generation G.fast prototype.
During a recent UBB2020 Radio show, ADTRAN executive Robert Conger detailed the revolutionary role SD-Access plays in telco and cable operators' network – and business – transformations.
Cable operators continue to lure small and midsize firms. But can they duplicate the feat with large enterprises? Come find out.
Federal Communications Commission Chairman Ajit Pai plans a December 14 vote to reclassify ISPs and end net neutrality laws, according to Reuters.
As they invest in far-reaching access networks and next-generation technologies, service providers are retooling their cultures into startup mode.
Viavi Solutions extended the capabilities of its CellAdvisor JD700B Series to enable fiber and wireless technicians to use familiar equipment in a new 5G arena.
Tuesday, November 21, 2017
10:00 a.m. EST / 3:00 p.m. London
Growing bandwidth demand, competitive pressures, and ambitious political and regulatory goals promoting the Gigabit Society are forcing service providers to expedite their technology investments and place bets on the right technology choice. With a growing number of trials and start of commercial deployments, Gfast has emerged as the smart, pragmatic and future-proof solution to delivering on Gigabit Society goals.
During this Webinar, Werner Heinrich, Director Portfolio Management Broadband Solutions at ADTRAN, will discuss:
The Ultra Broadband toolkit and Gfast evolution status
The economics driving FTTx adoption
Unleashing the power of symmetric broadband services
Latest in Gfast solution packaging accelerating Gigabit service coverage
Improving network economics and services agility using SD-Access

Listen to this archived radio show for a fascinating look into the world of SD-Access and the complementary technologies creating the digital revolution. Bring your questions and your curiosity to be part of the conversation.
All resources
BT's Formula for F1 Success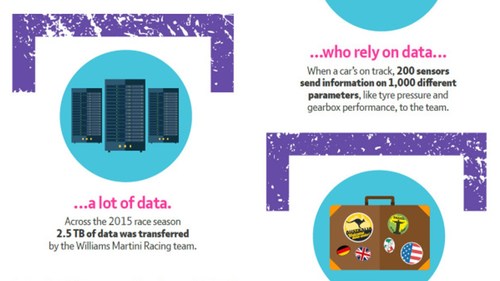 Infographics archive